Ruger 10-22 Takedown Barrel and Receiver Protectors
This is the best insurance for your Ruger 10-22 Takedown. Prevents the receiver end of your barrel from getting damaged from accidents and mishandling and prevents the receiver from getting polluted from dirt and debris. O rings on both protectors keep you rifle engagement clean and secure on your rifle.  
Here installed properly and ready for putting away in your Ruger pack.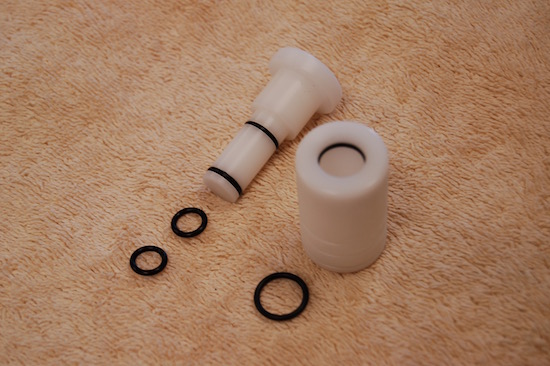 #1 MUST HAVE. BARREL AND RECEIVER PROTECTORS
The real solution to keeping your Ruger 10/22 Take Down in perfect working order on any kind of adventure. Machined from solid White Delrin rod. Maximum lubricity and a visual aid for debris contamination. Buna O-rings for wiping the surfaces clean during installation and removal. Precisely engineered for the Ruger 10/22 Take Down. 
PRICE: $34.99 Free shipping in the USA. California destinations sale tax applies.
OUT OF STOCK
SOCAL-FISHING-HUNTING.COM
MPH PRECISION
RIVERSIDE, CA USA
MPHP@CHARTER.NET